So many jobs, so little time:
Below are some examples of the work we do. Thanks to all of our clients and friends that have given us the privilege of working with them on their projects .


---
Studios at Fischer – Fischer, TX
ILS was contacted by Zach Hennig from
The Studios at Fischer
to help specify a new lighting system per
Bryan Hartley's
design for their new sound stage. After several phone consultations, visiting the site and sending several fixtures to Las Vegas for Zach's approval, the following items were specified and installed for their 6/28/2015 opening:
1ea. HES Road Hog 4
18ea. GLP Impression X4S
22ea. Robe Robin PARfect
8ea. Robe Robin Pointe
8ea. ETC Source 4 Ellipsoidal
1ea. LeMaitre MVS Hazer
Pictures are from 2nd hour oi programming 6/27/2015:
---
Cameron ISD Yoe Stadium, Baseball Complex and Gym - Cameron, TX

Eric was contacted by Collin Clark, Superintendent of Cameron Independent School District, to assist in the installation of a Meyer Milo line array system donated to the district by Texas A&M University. After looking at the donated equipment and meeting with the Superintendent concerning the Football Stadium, Eric was asked to also propose a sound system for their new baseball complex as well as replacing their outdated system in the Gymnasium for budget consideration. After several trips and meetings the three systems were proposed and subsequently approved. Installation was complete in time for both Volleyball and Football Seasons. We wish the best of luck to the defending 3A State Champions (3 yrs in a row).
Below are pictures from the install completed on 8/20/2015:
---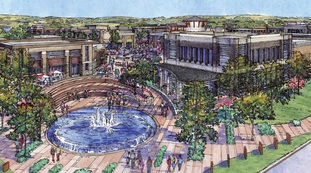 ​
Park Village Fountain – Southlake, TX
ILS was contacted by Ronn Garland of The Fountain People (
fountainpeople.com
) to specify audio for the installation of their custom designed water feature for the New Park Village Shopping Center. After reviewing the CAD drawings, Eric worked closely with The Fountain People as well as the Shopping Center to provide both an aesthetically and sonically pleasing sound system for the project which opened in December 2015. The final installed equipment included:
1ea. Apple
iPad
Mini
running
Ashly Remote APP
1ea. Locking Wall Mount for iPad
2ea.
Ashly nXp8004pe
4x800w Network Power Amplifier w/Protea DSP
2ea.
JBL CBT 70J-1
Line Array Column Loudspeaker
2ea.
JBL CBT 70JE-1
Column Woofer Extension
2ea.
JBL MTC-PC2
Panel Cover Pair for CBT Loudspeakers
4ea. Community
W2-312-94H
3-Way Full-Range WET II Loudspeaker
3ea. Custom WLS Speaker Poles w/Mounting Brackets
---
---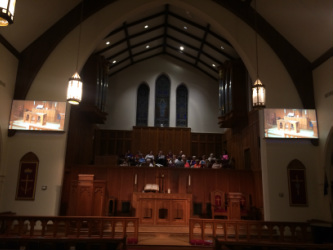 ​First United Methodist Church – Bryan, TX

After successfully completing a lighting remodel back in 2010, Michael Holmes decided to once again contact Lighting Ministries for his AV needs. This time the church wanted to purchase a complete video playback and recording system. In addition to the 2 main display devices specified into the sanctuary (NEC 6200lm 1080P Projectors) and 6 additional screens in the main building, another 4 displays were needed in their fellowship building. After several conferences with the church, Eric specified the Roland V800HD Mixer, 3ea. Sony EVI-H100S camera's as well as RG6, CAT5e and fiber optic infrastructure to accommodate the church's various needs, resolution displays and technologies in both the main and fellowship building. This project was completed in August.

---
---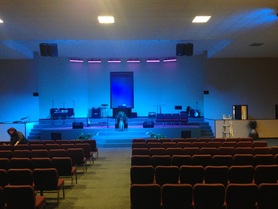 Pastor Terry Wakefield called Intelligent Lighting Services inquiring about assistance with their existing Video system and inadequate Stage Lighting. After evaluating the worship center with Pastor Wakefield, Eric determined that their existing projectors were adequate and were relocated and supplied properly scaled content. Also added were the following:
1ea. Enlighten DMX Software and Interface
8ea. Elation Opti Quad Par RGBW LED Wash
6ea. Elation ELED QW Strip 1m RGBW LED Batten

---
---
First United Methodist Church Bryan, TX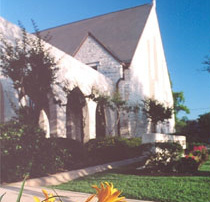 FUMC in Bryan, TX wanted to add some much needed lighting to the stage in this downtown landmark. Mike Holmes contacted Lighting Ministries upon another churches recommendation and an evaluation meeting was scheduled. At that meeting it was decided to integrate new LED Philips recessed fixtures (0-10vDC) with the Enlighten Pro DMX software/interface, ETC Source 4 Ellipsoidal spots and new Elation LED wash and Platinum Spot intelligent fixtures.
CLICK HERE FOR PICTURES
---
---
First Baptist Church Marble Falls, TX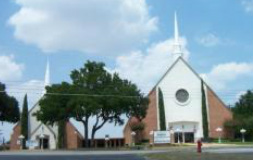 During a major Texas Fall storm, this church was directly struck by lighting twice causing irreparable damage to most of the audio, video and lighting equipment in addition to other electrical equipment throughout the campus. Eric was contacted by Church Administrator Gary Stone and was soon working with FBC Technical Director Bubba Stallcup to come-up with a sound, video and lighting solution that could be up and running within a 10 day period due to upcoming events and services. It was soon realized that their was no way to complete the job in the time allotted so the Audio was considered top priority with video following due to a Nov. 15th event. The sound, video and basic lighting was completed on the evening of the 14th and the event was a complete success.
CLICK HERE FOR PICTURES
---
First United Methodist Church San Marcos, TX Completed - Nov 29 , 2012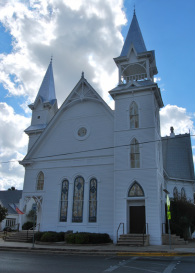 It was an odd coincidence and great honor to receive a call from FUMC in San Marcos,TX since it was the church Debra spent her childhood attending. Many family services and events were held in this sanctuary and the children's center is named after her Grandparents. We felt a true calling to do this project and maintain the architectural elements that have made this church a Historical Landmark.
Eric Bernstein specified and Intelligent Lighting Services installed a QSC Line Array System with Ashly amplification and a Midas Pro1 Digital Mixing Console. Since this building is a National Landmark built in 1893, attention to structural integrity, physical appearance and system integration were paramount. Another challenge was the new QSC line array system which was rigged with one (of three) Crystal Chandelier hanging between the Sub/lower array and front upper array.
CLICK HERE FOR DETAILS AND PICTURES
---
---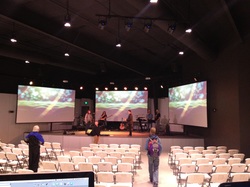 After many delays RockPointe Church finally opened the doors of their new location on Sunday, January 27th with two near capacity services and numerous compliments. A/V design was originally completed on this new 13 acre campus in Leander in 2011 and revamped several times during the building process including a 100% LED Worship Center as well as other energy efficient lighting used throughout the facility. In anticipation of the new Worship Center needs, a Tannoy VNet system was put into weekly use at their former facility. Rockpointe also began utilizing their new Allen & Heath GLD mixer in order to gain experience using the digital platform prior to moving into their new home. Additional sound as well as a complete LED house and stage lighting system was installed. Due to the unique stage design a 3-Screen Short Throw Projection system was installed using ProPresenter 5, a 27" Apple iMac with a Radian 2GB video Card and Matrox TripleHead2GO DP GPX Interface. A Panasonic AG-HMX100 Video Mixer will be used, running through a Black Magic Ultra Studio 3D HD-SDI Capture Card so all video sources including cameras can be run in the multi-screen enabled ProPresenter system. We would like to thank all the people of RockPointe that helped facilitate the quick move as well as the technical staff for taking the time to properly learn the use of their new eqiuipment.
CLICK HERE for pictures from the opening service
---
---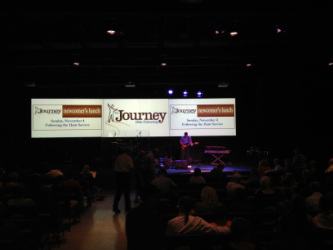 Intelligent Lighting Services provided video, audio, stage and house lighting design for this new campus in Leander, TX. Ground broke in mid March. and Lighting Ministries is very pleased to have worked with Ken Mongold (Project Manager) of San Gabriel Project Management. Thanks to his quick decision making ability, all house lighting in the worship center and lobby were LED's which provided significant savings in construction costs as well as expectations of long term energy savings. We worked with Pastor Danny Allen and his team on the integration of the sound, lighting and video systems. Once again the new Allen & Heath GLD Mixing Console was used with all accessories included. A 40ft wide seamless video projection system was been designed using Panasonic projectors and ProPresenter 5 software . Lighting control by Mega-Lite's Enlighten Pro.
CLICK HERE FOR DETAILS AND PICTURES
Seminary of the Southwest
- Austin, TX
Eric was asked to specify replacements for the Auditoriums conventional PAR64 fixtures and asked to add something that could be utilized as a spotlight and add a little "excitement" to specific presentations and speeches. Due to the small area, limited throw distances, hanging obstacles and power concerns 4ea. Elation Opti Quad Pars and 2ea. Elation Platinum Spot 5R were ordered. Once again Enlighten Pro Software was integrated since there will be many volunteer operators. The system was setup with password protection with playback only buttons available to the users.
Trinity Baptist Church
-Katy, TX
Associate Pastor Jason Mayfield originally spoke with Eric at the WFX Conference late last year. After moving into their new location Eric drove out to Katy to specify Phase 1 of their new Stage Lighting system. Enlighten Software was chosen for the volunteer based control system with 8ea. Elation Opti Quad Pars for FOH lighting and 4ea. ADJ Mega Bar Pro for wall lighting. Installation was performed by the volunteer staff with Pastor Mayfield directing the entire process.
First Baptist Church
-Pittsburgh, TX Technical Director Jon Stroker called Lighting Ministries to discuss upgrading their aging conventional system in their main worship center. After many phone calls it was decided to start with a basic LED color wash system as well as adding 4ea. ETC Source 4 Zoom Ellipsoidal spots. Elation ePar QW were chosen for stage wash and 12ea. American DJ Mega Tri Bar will light the side and back walls. Jon and his volunteer team will be using Enlighten Pro software and doing the entire install on their own.
---
Celebration Family Church -Raleigh, NC
Pastor Michael and Annette Kelly completed the integration and upgrade of a new LED lighting and Control System for this vibrant non-denominational and multicultural church. Michael specified a truss system with 24ea. Elation Opti Quad LED fixtures and 6ea. Opti Tri Whites. For house lighting Michael retrofitted 140 60w incandescent bulbs with new 12w dimmable LED lamps utilizing the DFD DMX8DIM to fully dim these highly efficient source utilizing less than 16A of power.

Promiseland Church - San Marcos, TX
Pastor Michael Kelly and Eric Bernstein worked with Pastor Robin Steele and his father Rob on the new addition to this fast growing church. LED lighting was used as both house and stage illumination in our continued effort to bring affordable green energy solutions to the church market. Also installed is the new Allen & Heath GLD Digital Mixing Console and Tannoy VXP15HP Loudspeakers with DAS 218G subwoofers. Also included is a 3-screen HD Video Projection System with ProPresenter 5 Software. Special thanks to Bishop Kenneth Phillips for his continued support of our staff as well as Worship Leader Will Krauss for his time and volunteer coordination.

Grace Bible Church - Laredo, TX
Kenneth Simpson phoned Lighting Ministries after researching his choices for remodeling consultation. Working with Lighting Ministries' Eric Bernstein. a new Stage Lighting and Truss System was designed to add color and depth to their existing Worship Center. After deciding on an Enlighten Control System and 24 of the new Elation ePar QW LED wash fixtures, Kenneth asked Lighting Ministries for assistance in adding a video mixer and camera system to their Christie LX605 projector. Eric specified 3ea. Sony EVI-H100S HD PTZ Camera with HD-SDI Interface and a Panasonic AG-HMX100 - HD/SD Video switcher/mixer. Ryan McFeron from ILS completed the installation in 3-days with the assistance of Kenneth and are now planning additional lighting for the Christmas season

The Lost Shepard - Winston-Salem, NC
For the 10th Season Pastor Michael Kelly starred, directed and performed all lighting design duties for an incredible run of their Easter 2012 production The Lost Shepard at Central Triad Church. With over 150 cast members Michael and his family were able to fill the house from March 24th - April 6th. All of us at Lighting Ministries are very proud to be associated with pastor Kelly and this incredible show.

Wild Ride Ministries- Harper, TX
Thanks to our long affiliation with Promiseland in Austin, we were contacted by Phillip Parris - Creative Arts Pastor to look at their existing facilities and suggest needed upgrades. After a beautiful Hill Country drive Eric was surprised to find Senior Pastor Michael Weaver at the helm. Pastor Weaver formally played the role of the Devil in the Promiseland production of Jesus the Miracle which Eric designed lighting for in the 1990's reminding all what a small world it truly is. After upgrading their lighting system with Elation Opti Tri PAR LED fixtures and Enlighten software control in December, we have been asked to add some intelligent spots to their system in the near future.

Greater Ransom Way of The Cross Church of Christ - Henderson, NC
Pastor Michael Kelly was contacted to consult, specify and install a LED retrofit that should save the church 70% of their past energy usage where applicable. Michael completed the install in late November. Please click on the above link for pictures.

Unity Church of the Hills- Austin, TX
Eric has been working with Doug Schwanke to replace and upgrade Unity's 12yr old 277v wall sconces with a LED solution. During this time several failures with their dimmer panels occurred and 2ea. Elation RDM620 Dimmer Packs were added to replace the older dimmer system until LED fixtures could be utilized. During this time 6ea. Chauvet COLORado Batten 72's were used as sconce replacements and 16ea. Elation ELED DW PAR 56 were ordered to replace the 500w PAR56 house light fixtures. Installation of the Chauvet LED fixtures happened in October and the Elation LED PAR56 replacement is scheduled for March 2012.

New Church- Georgetown, TX
Thanks to Ken and Randy Mongold (General Contrators for Generations Church) we were asked to consult, specify, design and coordinate the installation of the remodel/addition to New Church's Main Worship Center. After taking inventory of current A/V equipment, additional gear will be added including a new Tannoy VQNet sound system and Chamsys MagicQ lighting controller. We began August 15th after a very capable volunteer team ran most of the CAT5, speaker and audio cables and opened on Aug. 21st. On schedule and under budget.

Perry's Steakhouse - San Antonio, TX
Once again Perry's Steakhouse and Grill chose Intelligent Lighting Services (a part of Lighting Ministries) to design and install the audio/visual system into their 12th restaurant. It is with great pride that we have been associated with the Perry's name since awarded the Austin contract in 2007. This is our 4th design/build for Perry's and truly appreciate the loyalty. Grand opening was November 28th and has exceeded all forecasts.

Perry's Steakhouse - Houston, TX (Memorial City)
Due to the success of the LED lighting recently completed at the Austin location, Eric did an LED demo of the Mega-Lite Arc Wash RGB on the tower in this location that sits in the Memorial City Mall parking lot. After the demo Corporate ordered a total of 12ea. Arc Floods were installed on August 19th. lans are now underway for lighting the Dallas location. Check the news page for pictures.Perry's Steakhouse - Austin, TX


---
---
PICS, etc...

---
Generations Church - Leander, TX Consultation, Specification, Design, and Installation

---
Perry's Steakhouse - Memorial City Design and Installation

---
Perry's Steakhouse - Austin Design and Installation

---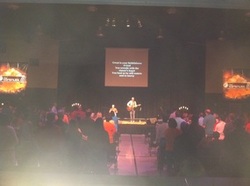 Below is an email we received on July 20, 2011 from Mark Escobedo:
Gentleman,

I would like to take a moment to express my appreciation for all the help and effort that both Intelligent Lighting, Lighting Ministries and Mega Systems took in making our worship center come to life here at Parkway Methodist in Sugar Land, TX. Knowing we had a small budget for a lighting system you still took the time to come out and tour our facility when other companies ignored our request. Being a church volunteer and not familiar with equipment, installation or programming gave me some doubt if I could pull this off at all. However, with the assistants of Eric, Rich and Winston walking me through the process and resolving my issues that came up really made it painless. Thanks again and I look forward working with you on the expansion of the lighting system later this year.

Thank you!

Mark Escobedo
Food Service Manager
San Jacinto College Central Cafe
281-476-1879/ 281-476-1830 fax
mark.escobedo@sjcd.edu
---
Below are a few of Bill's lighting, video and digital landscape designs